In every parking lot from grocery stores to hospitals to marinas, there are signs. We may not notice them until we need them, but their importance cannot be overstated.   Choosing a Path Signs can help direct people to follow the approved path. You may want to protect your landscaping by marking a path or a path could indicate a safe passage through an area with some danger. If you have a large campus, signage can direct pedestrians to different buildings.   Enter and Exit Signs It seems easy, enter here and exit there, but it often...
read more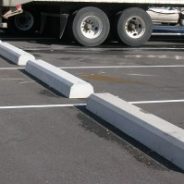 The hustle and bustle never ends at a grocery distribution center. Trucks filled with apples, milk and cereal are constantly coming and going.  For the drivers, time is money, so every minute spent circling a parking is expensive and wasteful. Recently, an Indianapolis distribution center for a large grocery store completed a parking lot renovation project. They called Indiana Barrier for help during this project. To successfully accommodate customers, the distribution center needed their parking lot to be easily navigable with few congestion...
read more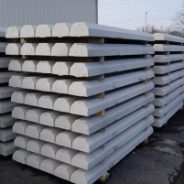 Indiana Barrier offers an exciting opportunity to become a distributor. Companies can distribute all of our precast concrete products which include concrete parking bumpers, sign bases, and plastic/recycled rubber parking bumpers. Ready to Discover the benefits of being a distributor and how to become an Indiana Barrier distributor. Distributor Benefits As a distributor you get several benefits by working with Indiana Barriers: 1. Special pricing: We work with all our distributors to offer special pricing on any precast concrete products they...
read more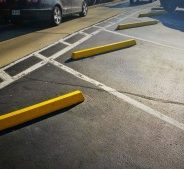 When children experiment with paint, they think more is the answer. If one coat of paint looks good, surely two, three or four will be better. By the end of their artistic endeavors, instead of a masterpiece they have a mess as the paint dries and slowly flakes away. Two fast food restaurant chain locations in Indiana ran into a similar problem with their parking bumpers. Each year another layer of paint was added to the bumpers.  The process was tedious and time consuming.   Unfortunately, after years of re-coating, the bumpers were an...
read more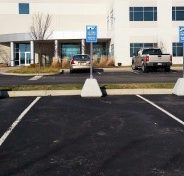 Our fast-paced, ever changing world demands flexibility.  What worked perfectly well yesterday, no longer meets our requirements today.  When a manufacturing facility in Noblesville, IN wanted to recognize long time employees with special signage in their parking lot they called on Indiana Barrier Company. The Challenge: Sturdy and Flexible The facility had signs and sign posts on-site recognizing these employees who had spent 20 or more years with the company. They needed bases which would be sturdy enough to stay in its designated parking...
read more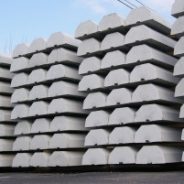 Every moment counts when you are headed to the hospital. From separate entrances for emergency vehicles to clear signage, all paths and parking lots need to be properly marked for easy navigation. Even in non emergency situations, it is likely for hospital visitors to be distracted as they pull into the parking lot. Indiana Barrier Co. was called upon to produce and deliver parking bumpers to four hospitals in Indianapolis. It was our job to provide long-lasting parking bumpers to improve the safety  in the hospital parking lots. The bumpers...
read more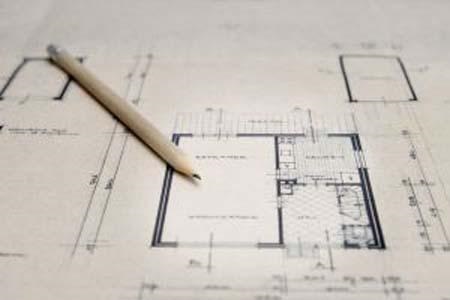 Whether you are building a small strip mall or a huge industrial complex, we know there are hundreds of details and specifications which must be documented and reviewed by your engineers, architects and building planners. At Indiana Barrier, we want to make it easy for you to specify our products as part of your construction project. We can provide full product descriptions, part dimensions, and weight measurements for each and every product we manufacture. Our detailed information will make it easy for you to include our concrete parking...
read more
A public research university in Ohio wanted to improve the look of their campus by replacing old signs which were worn, faded, rusting, and in some cases completely missing. The university asked us to provide new concrete sign bases to upgrade existing signage, replace damaged bases and add new signs in the parking lots reserved for students and faculty and for signs facing the surrounding roads. While our concrete bases served to give a fresh look to their campus, the products are more than just decorative. Investing in these heavy sign...
read more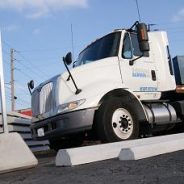 Greenwood, IN A trucking terminal and storage facility in  contacted us as they  prepared to add more than 50 truck stalls for parking. This growing trucking business knew they needed a physical way to mark their truck storage lot. At Indiana Barrier Company, we're experts in outfitting spaces often used by trucks or used for large vehicle fleet storage. To provide a long-lasting solution for the freight company, we recommended larger concrete truck bumpers instead of traditional bumpers designed for commercial cars. We then...
read more